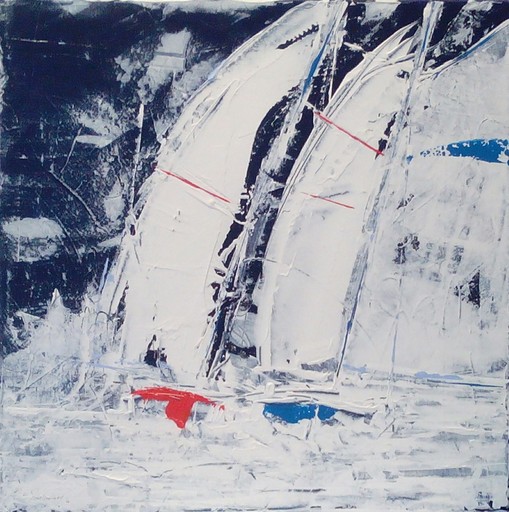 Welcome, here you find a selection of my works. More information by clicking the pictures. Contact by mail (envelope) or phone 0031.6.44662329
---
Ber Stekelenburg
Oudebildtdijk 490,
9076GP St. Annaparochie
The Nederlands
---
However drawing and painting was a big passion even when I was a child, I started of as a photographer. On a more commercial basis, to earn a living. In the eighties at the art academy I discovered the possibilities of 3 dimensional works. Never deles I started of with drawing and painting. Ideas of steel objects I developed then, I recently worked out and going with the project I created a symbiosis between paintings and steel sculptures. Also the photography has become a tool to create art. Digital manipulation gives a rich ranch of possibilities comparable with the craftsmanship of the black and white period. It gives photography an extra dimension. Is it a coincidence that also photographs are printed on metal nowadays? The disciplines I never wanted to choose between are getting closer and closer.
My inspiration is often found in details or fragments I find in my environment. Symbols I use to comprehend the world around my and let my share my admiration for it.
---
Curriculum
Marco Tituci fine art gallerys De Haan Belgium
Art super witte kerk Hemrik 2014-2015
Arto Esperanto Hilversum 2014
Galerie Jitsche Hemkes Kollum 2014
Art Assen Assen 2013
Artfusion Amsterdam 2011-2012-2013-2014-2015
Galerie van de Rivierenhof Antwerpen/Zoersel België 2013
Las Palma's Rotterdam 2013
Boijmans van Beuningen (smaken verschillen) Rotterdam 2013
Loods 5 NAT Zaandam/Sliedrecht 2012-2013
Aerdenplaats Oude Bildtzijl 2011-2012-2013
AAF Amsterdam 2012
Galerie Gents fine art Gouda 2012
Fries Museum (alles van de straat) Leeuwarden 2012
Galerie 92 Leeuwarden 2012
Galerie Het Kunstbedrijf Heemstede 2011
Galerie Plein 7 Amsterdam 2011
Galerie De Kleine Hoogstraat Leeuwarden 2010
Korenbeurs Schiedam 2009-2010-2011
Art Hotel Het Klooster Kloosterburen 2008-2009- 2010-2011-2012
Art shopping carrousel du Louvre Paris France 2010
Grote Kerk Harlingen Harlingen, 2009
kunstreizigers 4 Ruinen 2009
kunst en design Kalmthout, Belgie, 2009
Atelier DV Harlingen, 2009
Mea Vulva Nieuwegein, 2009
kunstreizigers Groningen, 2008-2009
De Koperen Hoogte Zwolle, 2008
Kunstenzo Beetsterzwaag, 2008
tudio Jan Bisschop Amersfoort, 2008
Galerie Gang IJmuiden, 2007
©copyright 2003-2015 ber stekelenburg